Come here to suggest spooky Halloweeny things like books or movies!
____________________________
[size=150]
The Amityville Horror, 1977, by Jay Anson
[/size]
This is a great read and a very interesting story (which I'll probably make a whole thread about soon). The book tells the story of the Lutz family - newlyweds George and Kathy, along with Kathy's three children from a previous marriage. They are able to purchase a beautiful house in Amityville, New York at a steep discount. The reason? The oldest son of the previous residents had killed his entire family in that very house one year earlier.
The house was great at first, but the Lutzes soon realized they were not alone in their new home - some maddening demonic presence was there with them. As the days went on, it manifested itself more powerfully and frequently. On the 28th day, the Lutzes left the house and all their possessions. This book is an account of what the Lutz family claimed happened in their house, and it's a fairly frightening read. Written in a semi-journalistic style, it's somewhat dry but still very effective. Although the author admitted to rearranging and embellishing certain events, George Lutz maintained until his death that this was the most accurate media portrayal of the events he experienced.
_________________________________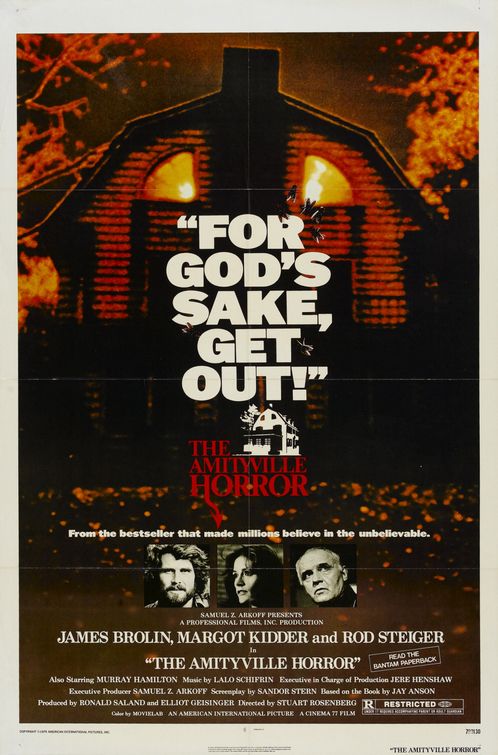 The Amityville Horror, 1979, Directed by Stuart Rosenberg
For those who don't have enough time to read the book, or want an interesting companion piece to it, there's this Oscar-nominated 1979 film adaptation. Wildly exaggerated (though not nearly so much as the awful 2005 remake), the film is nonetheless a creepy and atmospheric experience which served as a large inspiration for films such as
Poltergeist
and is often regarded as a classic of the haunted house genre.